AWD - FLATBLADES:
- The new generation wiper blades -




AWD is offering a full range of Flat Blades (sometime called Beam Blades) for almost all cars on the market.
All the AWD blades are standard fitted with OE quailty rubber and fufill the strict quality requirement of BILA BV.
In co-operation with a certified supplier base AWD developed a full range of Flatblades for the European market.
The AWD wipers come with a unique set of clips which makes it easy for the customer to install the wiperblade.
In each AWD Flatblade wiper-box a set of 6 clips is included to make sure the blade fits to almost every car.
The easy to read install manual will help the customer to select the right mounting clip.
With this unique concept you can keep your inventory low but at the same time serve all your customers.
The Flatblades are available in lengths from 350 - 700mm


AWD - STANDARD BLADES:
- The reliable and proven blades-



AWD is offering a full range of Standard Blades (sometime called conventional blades)
for a large majority of cars on the market.
The Standard Wipesblades (looking like coat-hanger) have been equipped on almost every car during the last 100 years.
AWD is offering a well balanced Quality and Value level.
The Standard blades are available in lengths from 350 - 650 mm




AWD - REAR WIPERS :

- Standard neccessity for modern cars -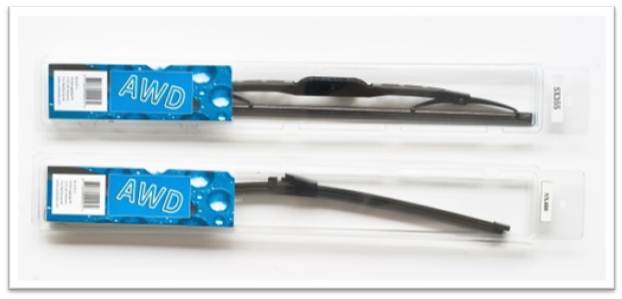 AWD is offering a full range of Rear Wipers (18 different types) for almost all
modern cars on the market.
Although difficult to find on the market: we have them all!







More in info on AWD - wiperblades:
The wiper blade is an indispensable element for safe driving and whilst they are more widely used in the winter months, they play a critical safety role at all times of the year.
That's why we supply wiper blades that are engineered for European road conditions, with high speed and winter/summer conditions. With sizes from 300mm to 700mm for both right and left hand drive, we ensure coverage for more than 95% of vehicles on the road. All our types of wiper blades do what they are designed to do: Keep your windscreen clear.
Product Features :
Applicable in all climates & Western European driving conditions, also in snow.
Replaces almost all standard wiper blades and OE applications in flat blade
Includes wipers blade and adaptors, for all vehicles, front & rear windscreens.
Premium molded rubber blades - consistent level of performance and cleaning
Full strong metal structure - optimum strength, durability and noise reduction.
Long Life, silent operation
Consistent streak free operation
Universal adapters - allows quick and easy fitting
We offer a high quality wiper blade at an affordable price. Our wiper blade technology and design is available for the following wiper blade categories:
Premium Conventional Wiper Blades


Our wiper blades are of 'metal' construction in high-quality steel with primary and secondary arches to ensure consistent application of pressure on the windscreen across the full length of the cleaning surface. This double arch formation supports a rubber blade specially formulated to achieve the best cleaning results in all weather conditions and the consistent pressure application not only ensures high performance and functionality but also ensures durability and extended performance. Graphite rubber results in A quality cleaning. In addition our conventional range includes spoiler type wiper blades. The spoiler helps to keep the blade closer to the windscreen, and essentially is needed for driver' sides only, when driving at high speed.
Aerodynamic Flat blades
We also offer the so called 'flat blade' (frameless wiper; beam wiper blade). The flat blades feature a completely new style and technology and are now becoming the standard fit on new vehicles. These types of wiper blades do not have a metal 'coat hanger' shaped frame. Instead, they have a tensioned metal strip running within the rubber structure of the wiper blade. Flat Blades are designed with a joint less structure to maximize durability and enable highly efficient operation. This design allows for a flatter aerodynamic shape which reduces wind noise. The internal metal strip applies constant pressure along the length of the blade and has a built in spoiler. Our flat blades use specially developed adaptors that allow quick and easy fitting to over 95% of all cars in Europe. The most common type of wiper arm adaptors for flat wiper blades are known as Side Pin, Bayonet, Pinch Tab, Push Button and Slider. In addition there are specific adaptors available for new vehicles. Flat blades are not exposed, and they easily resist snow and ice. Being smaller than a conventional wiper it also provides less obstruction to the driver's field of vision.